We have long understood that managing ESG risks and opportunities is essential to protecting and enhancing long-term value.
Great infrastructure businesses must have a foundation of excellent ESG management. A best-in-class health and safety culture, prudent management of environmental risks, diversity and inclusion, strong governance and high employee engagement are good for the company, its stakeholders and the environment.
Fundamentally, good ESG management reduces risk and improves long-term investment returns. This is at the heart of our approach.
Five Minimum Standards
We developed Five Minimum Standards for ESG performance that we aim to implement in all portfolio companies
Focus on actions
We seek to ensure portfolio companies not only "tick the box" on ESG but have the appropriate culture and mind-set to deliver tangible improvements
Improvements not exclusions
We can add value and reduce risks by improving ESG performance rather than through blanket exclusion policies
Proactive asset management
We work closely with portfolio company boards and management teams to drive ESG performance
Top-down and bottom-up
ESG requires strong leadership from the board and management but can ultimately only be successful if it forms an integral part of the company culture
Transparency & accountability
We report our progress on a quarterly and annual basis
Five Minimum Standards
We have developed Five Minimum Standards for ESG performance that we aim to implement in all portfolio companies.
Though our companies operate in different industries and jurisdictions, are of different sizes and are at various stages of development, we believe these core standards are universally relevant.
Each company then sets additional targets and action plans tailored to their company and the unique ESG challenges they face.
Five Minimum ESG Standards we seek to apply at all portfolio companies
Health and safety
Zero accident target
Standard reporting
Climate change
Emissions targets
Emissions reporting
Governance
Independent board representation
Risk management
Standards / certifications
Customer satisfaction surveys
Cyber security
Modern slavery risk assessment
Employee engagement
Employee engagement surveys
Apprenticeships and continuous professional development
Climate Action 1, 2, 3!
As long-term infrastructure investors, it is vital that we manage the risks and opportunities presented by climate change and the energy transition.
Our target is to achieve net zero emissions in our portfolio by 2050.
Three climate actions we aim for all portfolio companies to take:
Targets
Net zero roadmap and interim emissions targets
Risk assessment
Climate impact assessment integrated into business plan
Governance
Strong frameworks to manage climate risks and opportunities
ESG is integrated into each stage of the investment process
Initial screening
Red flags report
ESG one of eight key criteria assessed
Due diligence
In-depth analysis of ESG issues
Assessment of Five Minimum Standards, climate risks and other material ESG issues
Investment decision
Material ESG issues priced into bid
Don't proceed if material risks cannot be remedied
Asset management
Implement Five Minimum Standards and Climate Action 1, 2, 3!
Drive performance on all ESG aspects
Regular reporting to investors
Sharing experience
Between portfolio companies
Between team members
Exit
ESG integrated into vendor documentation
Demonstrate long-term value creation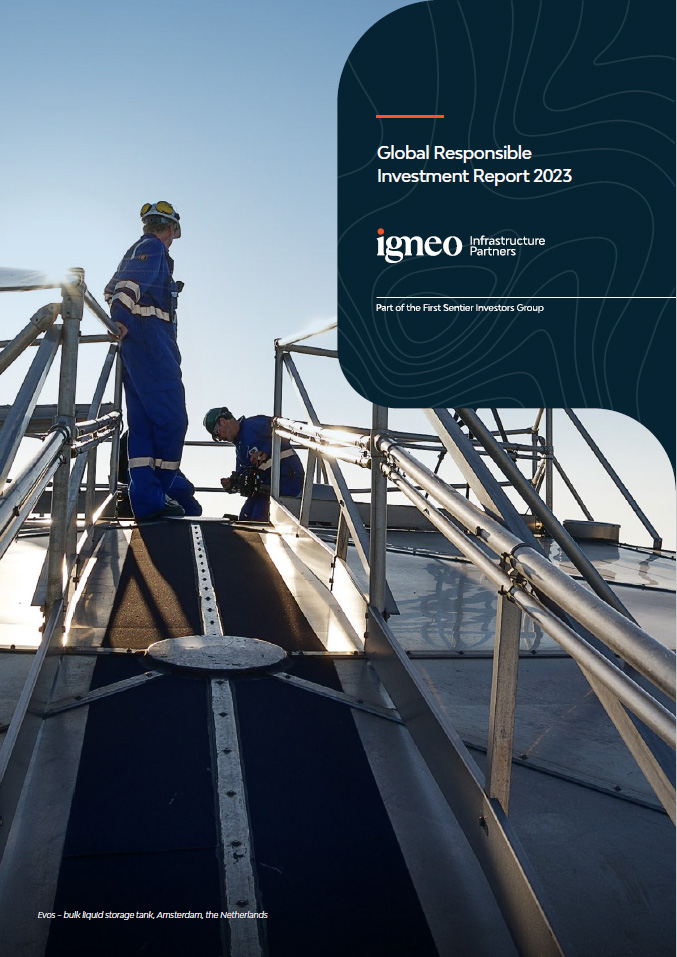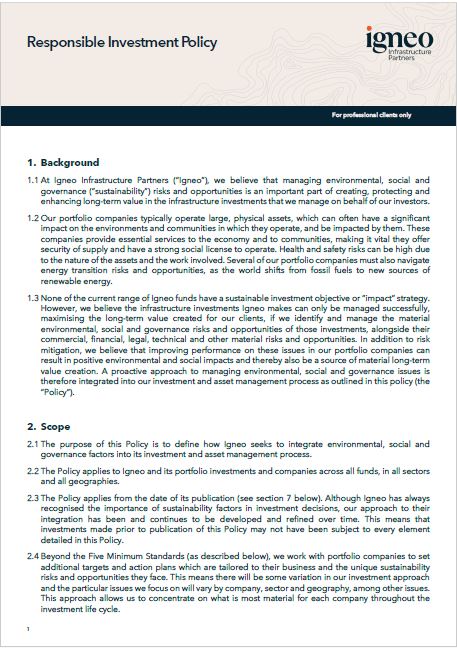 First Sentier Investors is a signatory of:

Igneo (the direct infrastructure business) achieved 5 Stars in its 2021 PRI report, with a score of 100/100